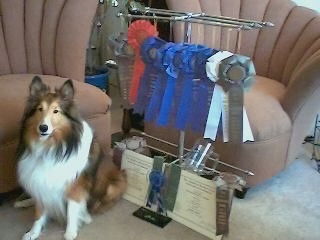 (The above photo is a picture of Dylan and his Trophy's, 2 certificates of Title & many Ribbons.)
Agility is a fun sport that let's both you & your dog have fun together! Come have fun with your dog while you both learn something new that is both physically & mentally stimulating for each of you.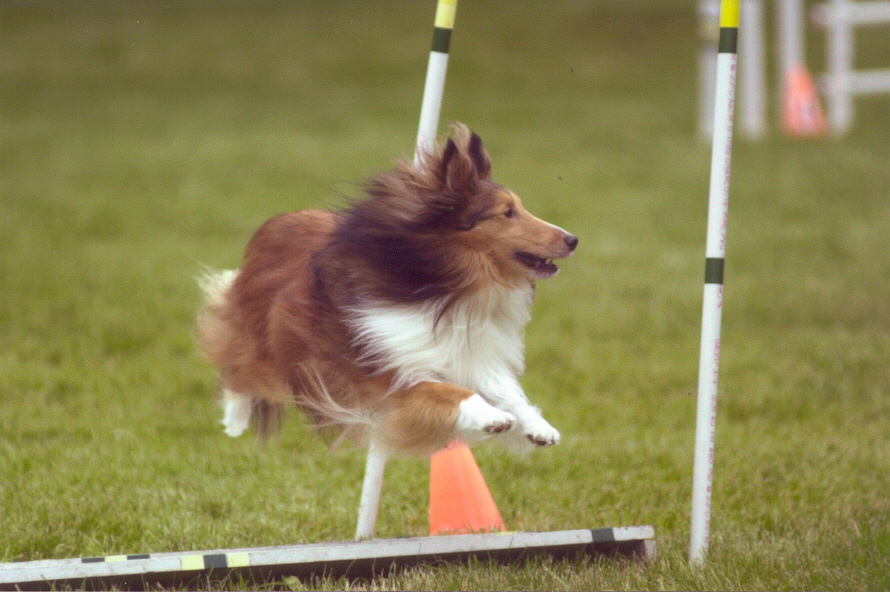 Dylan flying over a broad jump. (Look Dad - no paws!)
Sorry folks but we've moved away from IL. If you are interested in Agility in the Western Suburbs of Chicagoland, please call Pat Rattray at (630) 554-6028. She's a GREAT, Positive Refenforcement ONLY - Teacher.
Maybe I'll eventually teach again, once settled in Florida.
(See my Contact Information page, for more info on my move to FL and my crusade to raise money for a new home for Dylan.
A beginner's Agility class will be starting Soon - Call for Details! One hour weekly session are held weeknights (when daylight permits) and/or on Saturday's. Call for details on exact days & times for upcoming classes. Great outdoor location (in warm months) near So. Naperville/Oswego border. (in IL)

You need to meet the following criteria:
YOUR DOG: Must be at least 1 year old. Must be people & dog friendly. Should have some basic Obedience & Must come when called.
YOU: Must want to have fun & spend quality time with your dog.


Below is Dylan on the A-frame - look at that concentration! (ha ha)