Where you Might See Nate Next:
*** Nate will be on the Oprah Winfrey television show on TUESDAY, November 21, 2006. It's a new episode! Nate has a $10,000 Challenge. Plus we'll be meeting a new hunk from Australia!***
GOSSIP - It was reported in yesterday's (10/19/05) NY Post that our Nate is now dating again. He's said to be dating the HOT Male Model (Jeffrey Brezovar) who is also the biological father (or sperm donor?) of Camryn Manheim's baby. Want a peek at Nate's new Boyfriend? If so, follow this link to see some of Jeffrey's modeling shots.

***CAUTION before clicking on the provided link, be aware that once you go to that website it will NOT allow you to hit the back arrow to get back to this website. It's best to open the below link in a 2nd browser, because once you go there - you are stuck on that website.***

Once at the below website (it takes a little work, but it's worth it!), click on the box that says "Male". after that click on the "Search" box and type in the name Jeffrey Brezovar. When it brings up the first small photo of Jeffrey, click on that picture and you'll get a few more to view!

http://www.modelteam-hamburg.de/

FYI: See link to the Linens-N-Things website on the tab of this website that says "Related Links". They even have a couple of cute pictures of Nate when you first go onto the site! (Hurry before the pics & Sweepstakes go away.)

(The following story was reported in Fibre2Fashion.)

USA : Linens 'n Things & Nate Berkus partnership to introduce exclusive collection


3rd June 2005

Nation's largest home textiles, houseware & decorative home accessories retailer Linens 'n Things company entered into partnership with Nate Berkus, decorator, featured design expert for "Oprah Winfrey Show" & regular contributor to O at Home magazine.

Launching this Fall, exclusively at Linens 'n Things stores and LNT.com, the NATE BERKUS collection will be stylish & yet affordable line fof home decorating products across most categories in the store.

The alliance with Berkus underscores Linens 'n Things' commitment to continually give home enthusiasts the ideas and confidence they are seeking in home decorating. Berkus has been intimately involved with Linens 'n Things for the past 18 months in bringing his bedding, bath, tabletop, and home accessory collections to life, from selecting and designing the content of the line, as well as its packaging and merchandising.

The Nate Berkus collection represents the largest brand introduction in Linens 'n Things history. It will feature a comprehensive assortment of nearly 600 SKUs.

"They're thrilled to be partnering with Nate," said Norman Axelrod, Chairman and Chief Executive Officer of Linens 'n Things. "We believe he is a gifted and respected decorator who is exceptionally talented at helping people make their homes uniquely their own. His philosophy that a home should tell the story of those who live there resonates with the millions of home enthusiasts shopping in our stores.

Together, we believe the home should be the greatest reflection of everything that is special in the lives of our guests."

"I am so excited about the launch of my line at Linens 'n Things," explains Berkus. "Creating product is something I have always dreamed of doing and working with their team to bring my vision to life has been an amazing fit since day one. I knew from personal experience that Linens 'n Things would be a great place for me to make a statement that is true to me, while helping others lovingly assemble their own homes."

"I hope that when customers see my line that they'll recognize it for something that is not only new, but as a collection of pieces they can easily and affordably mix with what they already have," added Berkus. "That is the goal of my collection -- to offer fresh ideas and decorative pieces from my life story that will guide and inspire others to make their interiors a greater reflection of their life story."

"Our customers want ideas about how to decorate their home so that it better reflects who they are and aspire to be," added Axelrod. "Nate's expertise and enthusiasm for helping others improve the way they live is what our customers are looking for and deserve."

Linens 'n Things, with 2004 sales of $2.7 billion is one of the leading, national large format retailers of home textiles, housewares and home accessories. As of April 2, 2005, the Company was operating 499 stores in 45 states and five provinces across the United States and Canada.

Nate Berkus, owner of Nate Berkus Associates in Chicago, is a featured design expert for "The Oprah Winfrey Show" and a regular contributor to O at Home magazine. His inherent understanding of space, architecture, furniture, design and style translates to every project Nate designs. Nate's passion for design is fueled by his need to be surrounded by objects and interiors that inspire and please the senses.

Experience that he gained from Dominique Aurientis in Paris, France and Leslie Hindman Auctioneers is what began to shape his design eye. Nate launched Nate Berkus Associates in 1995 at the age of 24. As a design expert, Nate has been featured on a variety of local and national television programs including HGTV, DIY and the WE Network. In the Fall, Nate will also publish his first book, "Home Rules" (Hyperion, 2005), further extending his reach on the national design landscape.
Linens 'n Things
It's official - Nate has signed a deal with publishing company "Hyperion" to release a book about (what else) Home Design. Expected delivery is set for Fall of 2005!
Hello Nate, Hyperion, Anyone - I still want my CALENDAR!
(See my suggestion on my Pictures of Nate page.)

Nate looking very welcoming & very sexy.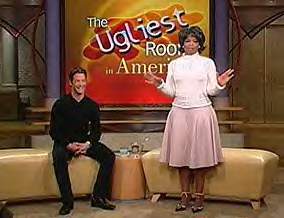 Nate on Oprah for the Ugliest Room in America contest.